| 5 min read |
First of all, I would like to give you a brief history of second round and third round of H1B Lottery.

The first time in the history of 2nd round of H1B lottery was in fiscal year 2021. When the USCIS agreed to conduct a 2nd of lottery for the first time, Everyone thought it was incredible. And the following year, FY 2022, there was an unprecedented third round of the H1B lottery.
---
Introduction
The H1B visa is popular among global professionals aiming to work in the U.S. In FY 2024, the U.S. Citizenship and Immigration Services (USCIS) has already conducted two rounds of selection for the H-1B lottery, leaving many to wonder, "Could there possibly be a third round H-1B lottery ?"
This article diving into the complexities of the H1B lottery system, provides valuable insights, data-driven analyses, and predictions for the future.
Historical Background
Over the last century, the U.S. initially established an annual limit of 65,000 H1B visas. However, as the IT industry expanded rapidly, the need for skilled professionals surged so the cap was increased to 115,000 in 1998 and further jumped to 195,000 by 2000. But this growth was temporary. Later, due to high unemployment rate, the U.S. government reduced the cap to 90,000 in 2004 and to the 65,000 in 2005. To accommodate specialized talent, an additional 20,000 visas were designated for individuals with U.S.-earned master's or doctoral degrees, allowing them to apply separately from the standard 65,000 visas.
Second and third rounds of H1B lottery
In 2021, in a unprecedented occurrence, USCIS conducted a second round of the lottery. In 2022, it went even further, with a third round of the lottery, a move that was both unpredicted and unforeseen.

USCIS gives the reason for the multiple rounds of lotteries as the fact that a significant portion of those selected in the first round of lotteries did not complete their final applications.This led to the addition of rounds of the lottery in order to fulfill the established quota of 85,000 H1B visas.
You may ask why there would be someone who was selected in the lottery but didn't file a final application. Kevin Miner, a partner with Fragomen, said: " Based on the significant number of applicants with more than one employer registering for them, USCIS is assuming that will remain the case with this next round, and the actual filings will be way less than the number pulled"(source: Forbes).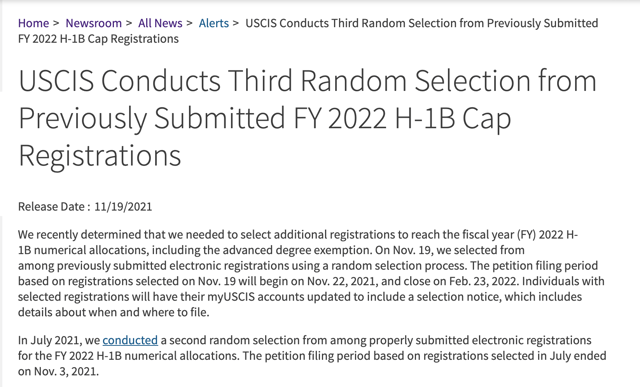 FY2024 H1B Lottery Analysis
In FY 2024, the USCIS released data showing a significant increase in H1B registrations to a shocking number of 780,884. We believe that a large portion of these registrations will not be finalized, just as they were before. Combined with the current efforts by the U.S. government to crack down on illegal multiple filings, this increases the possibility of a third round H1B lottery this year. It's not just our own mindless imagination, many law firms and the media have mentioned that there is likely to be a third round H1B lottery this year

Let's do the math
In the first round of the H1B lottery this year (FY2024), there were 780,884 registrations (28 times more than 4 years ago), 758,994 eligible registrations (28 times more than 4 years ago), and 408,891 multiple eligible registration (145 times more than 4 years ago).
The percentage of submissions after the first round of the lottery is only about 40% (this is an extrapolation based on data from the law firm we work with), so we continue to use the same percentage for the second round.
According to the USCIS, the second round of the H1B lottery resulted in the selection of 77,600 people.
From the first round: 110,791 petitions were filed, with 40% being selected, equating to 44,316.
From the second round: 77,600 petitions were filed, with 40% being selected, totaling 31,040.
Combining both rounds, the total number of H1B petitions filed stands at 75,356. Interestingly, this leaves a shortage of 9,644 from the target number of 85,000 H1B visas. This gap strongly indicates the likelihood of a third round!
What other options besides H-1B visa?
Even though we are confident in the H1B 3rd round draw, having a plan b is never a bad idea.
What are the other ways to stay in the US other than through H1B? Here I will briefly introduce a few alternatives (Each individual's circumstances are unique, and not all of these alternatives may be suitable for everyone. If you require assistance, please reach out to our expert agents for personalized guidance)

1. Cap-exempt H-1Bs: Certain institutions, like higher education entities and specific non-profit research organizations, can file H-1B petitions that aren't subject to the usual cap. This means they can be filed anytime during the year and are effective upon approval.

2. Country-specific Visas: The U.S. has employment visas similar to the H-1B but tailored for specific countries. Examples include the TN visa for Canada and Mexico, the E-3 visa for Australians, and the H-1B1 for Chileans and Singaporeans.

3. Investor Visas: The E visa allows individuals from certain treaty countries to start or buy a U.S. business. This visa can also cover essential employees from the same country.

4. Multinational Worker Visas: The L visa is for employees of multinational companies transferring to a U.S. office. They should have worked for the foreign office for at least one year in the past three years.

5. Extraordinary Ability Visas: The O visa is for those with proven extraordinary abilities in fields like science, education, business, or athletics.

6. OPT & Extensions: Graduates from U.S. institutions can get employment under Optional Practical Training (OPT). Those in STEM fields with E-Verify employers can extend this for an additional 24 months.
Conclusion
The H1B visa lottery can be frustrating sometimes, especially for those who haven't gotten their H1b after several times. But let's not get discouraged, hopefully you can restore your faith in h1b after reading my article.
In the meantime, there are many routes other than H1b that can lead to the same destination. Whether it is L-1, O-1, OPT or CPT, the dream of working in the US can still be achieved. Staying educated, exploring all the options and being flexible is essential to successfully realize your dream!